VARENNA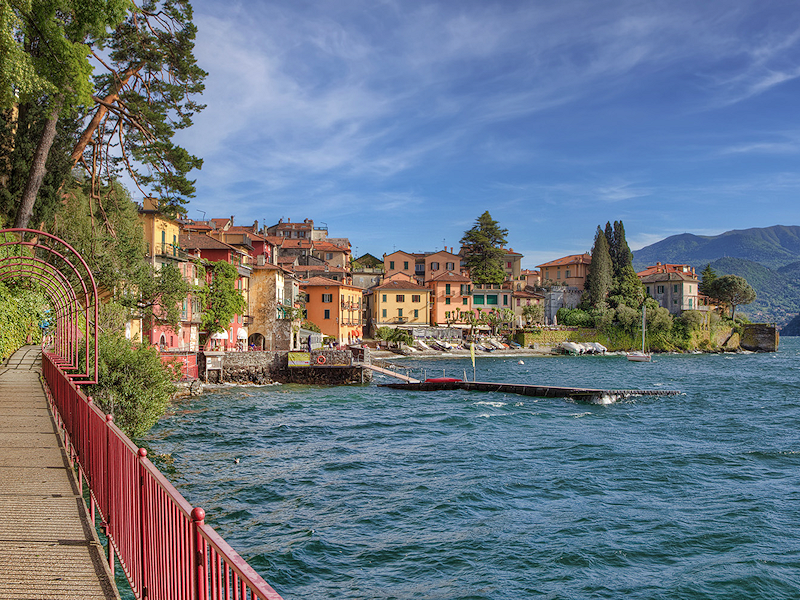 Varenna is an attractive village on the eastern shore of Lake Como, looking over the central part of the lake towards Bellagio. Varenna's picturesque lanes and old fishermen's houses are unpretentiously appealing, and some visitors prefer the town to its grander neighbours. Although Varenna is a tourist destination, and its pretty waterfront and tiny stone beach fill up with holidaymakers, it has somehow a more authentic air than the other hotel-packed resorts. The main tourist activities in Varenna are relaxing by the lake, and visiting the gardens of two villas, Villa Monastero and Villa Cipressi.Varenna is a useful gateway to Lake Como, as it lies on a railway line with direct trains to Milan, and is connected to the other lake resorts by regular car and passenger ferries.
In the Middle Ages, Varenna, of a prehistoric origin (Gallo-Roman remains have been found there), attained communal freedoms. During the ten year war it fought against Como and it sided with Comacina Island whose Shelteres it welcomed after its destruction. Varenna was already famous back then for its white-black marbles.
An interesting trip is one near the village of Fiumelatte (river of milk), called so because of the white foam of the seasonal torrent which gushes out only in the Spring from a cave and which, after a short distance flows into the waters of the Lake Como. We recommend from Varenna, a trip to Esino Lario (913 mt), called the pearl of the Grigne thanks to its splendid position, from the road for Esino a short deviation reaches the Vezio Castle at 383 metres, tower of a medieval castle, dwelling of the Lombard Queen, Theodelinda.