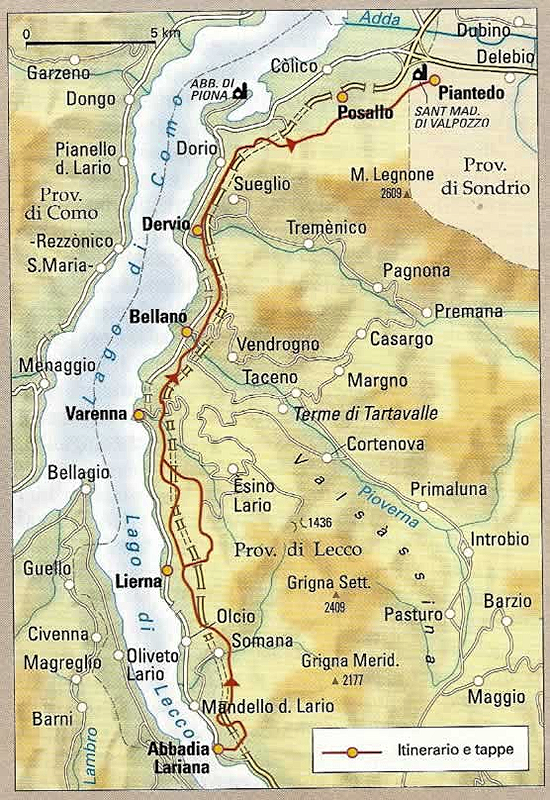 Walking along the eastern shore of Lake Como.
You can discover the famous shopping street that runs along the entire side of the lake across the main centers of the Riviera, from Abbadia to Colico through Mandello, Lierna, Varenna and Dervio.
An interesting hiking trail that runs through our area "Sentiero del Viandante" the ancient road that connected Lecco and Valtellina, recently recovered, which was known at one time as "Via Ducale" or "Via Regia" and in times even as "Road of Wayfarers" or "Napoleon's".
The old way was neglected when the Austrian government decided to open a new military road to the Stelvio, basing it on nodes Colico and Lecco, completed in 1832 following the path of the provincial 72.
The trail, which crosses the territory of Dervio, starts in Abbadia and ends in Colico, following halfway up the eastern shore of Lake Como and is indicated by special signs.
The "Sentiero del Viandante" has a total length of about 45 km and represents a unique opportunity to discover the artistic and natural beauty of the towns that dot the coast from Lecco to the north.
The proposed routes are based starting in Dervio, with fascinating landscapes, geological features, historical testimony, farm buildings, vineyards and terraces, but also essences trees and wildlife. To favor moments of escape, immerse in an environment that combines the lake with the sky.
The modest dimensions and excellent exposure of the path makes the route passable in all seasons.